Special offers from Barrel Barbecue.
We have some seconds Barrel Barbecues for sale at reduced prices, these BBQ's are just not good enough to sell as perfect, each Barrel Barbecue pictured below has some defect. ALL are perfectly useable and each has a detailed descripton of the reason we have clasified them as seconds stock. These are bespoke BBQ's and as sutch non returnable so please make sure you understand what you buying.
Drop us an email quoting the BBQ reference so there is no confusion.
click here to order a Barrel Barbecue
Normal delivery two working days if using direct transfer (bacs payment) but it does depend on demand. Please don't leave ordering until the sun comes out, because every man and his dog has the same idea.
Ask a question that's not already answered on this page tel The BBQ Man 07783438240 E Mail sales@Barrel-Barbecue.co.uk
ONE DELUXE SECONDS BARREL BARBECUE.
email quoting deluxe SECONDS bbq
Has a big dint on the right hand side lid.
Everything else OK
Standard 2/3 rd grill not chrome plated
£285. delivered UK mainland (Highlands incur a surcharge for delivery)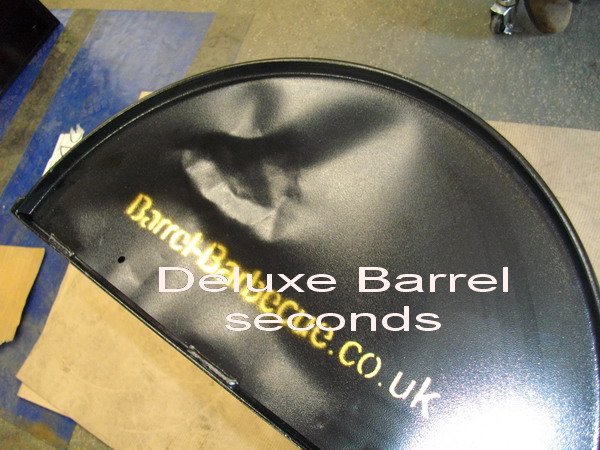 Two deluxe barrel halves (Deluxe Barrel Barbecue's without lids) PERFECT
We have five of these @ £200 delivered UK mainland (Highlands incur a surcharge for delivery)
email quoting deluxe half bbq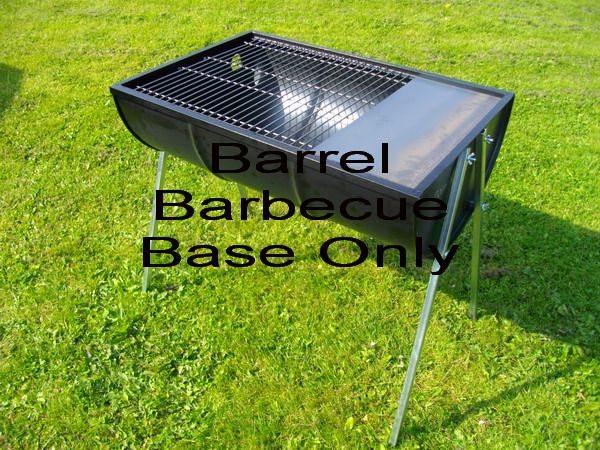 * Delivery may take longer & cost more to some outlying areas of the UK i.e. highlands of Scotland
CHOOSING A BARBECUE
There are many different types of barbecue on the market. Whichever one you choose, keep safety in mind. Make sure your barbecue is sturdy as barbecues become deceptively hot and many cheaper models are extremely unstable. Look for a barbecue with a fat collector to minimize smoke emissions and potential fire risk.
SITING A BARBECUE GENERAL SITING
Site the barbecue well away from fences and trees. Ensure the site is level and not situated in a position where the barbecue can be knocked over.
CONSIDER YOUR NEIGHBOR'S
Site the barbecue away from their homes. Do not disturb them with smoke or noise. (You can always invite them!)
LIGHTING UP
Always use the correct materials and fuels for lighting the barbecue and observe the manufacturer's instructions. Look for childproof caps when buying lighter fuel and always replace the cap after use. Never pour lighter fuel onto hot coals even if they appear to have gone out. Keep combustible materials and matches away from the barbecue.
FOOD PREPARATION AND COOKING
Keep all utensils and plates for cooked foods separate from those used for uncooked food. All frozen food must be completely defrosted before cooking on a barbecue. Meat and other high risk foods should be kept in a refrigerator until needed. Barbecues tend to char food on the outside and leave the centre raw. All meat should be cooked thoroughly but portions of chicken and other poultry need particular care. It may be a good idea to pre-cook meats by conventional methods before finishing off on the barbecue. Food should not be left in the sunshine. To prevent contamination by insect pests, all food should be placed in sealed containers and be kept off the ground. Only kettle-style or barrel barbecues are suitable for cooking joints and whole chickens. Other types will not cook the meat thoroughly. Use a meat thermometer to check that the meat is cooked properly.
REMEMBER THESE SAFETY POINTS
To minimise accidents, ensure children are under constant supervision and never leave the barbecue unattended. Glassware is breakable and can be dangerous. Use plastic or disposable beakers and plates. Ensure suitable fire fighting equipment is close at hand, eg garden hose/bucket of sand. Dispose of refuse in a covered bin so as not to attract insects and vermin. Never put hot ashes directly into a dustbin. Wait until they have cooled down.